"We consistently build enterprise-grade applications. We need a highly experienced developer."
This sentence made complete sense until a few years ago. But, with the rise of no-code and low-code platforms, the requirement has changed drastically. Today, with an advanced no-code platform like Quixy, you don't need any development experience to come up with world-class, complex, and fully customized enterprise-grade apps. 
A Brief About Quixy
Quixy's journey started in 2019 with a bid to solve the looming problem that every business, big and small, faces with software – choosing between "buy vs. build". We all know how readymade one-size-fits-all solutions have customization challenges while custom development takes time and cost creating huge backlogs for the central IT teams.
Quixy provides the perfect alternative to the "buy vs. build" choice with its advanced no-code platform that is being used by citizen developers in 10+ industry verticals to automate processes and workflows and build enterprise-grade applications without writing any code.  At least 10x faster !!
Quixy is currently rated Leader – Asia Pacific in the No-Code Application Development category on G2 and is amongst the top 15 solutions in Workplace Innovation, Digital Process Automation, Business Process management, and Workflow Automation categories.
Quixy is also ISO 27001 and SOC 2 Type 2 certified so the customers don't have to worry about the security and privacy of their data.

Where can you use Quixy? What can you use it for?
Organizations are using Quixy to solve their unique challenges and build enterprise applications without coding. The platform is industry or use-case agnostic and can be used by any size of organization in any vertical for any use-case. Yes, that's true.
To give you an idea, here is what a few of our customers across 10+ verticals have built with Quixy so far. These companies range from SMBs to large enterprises.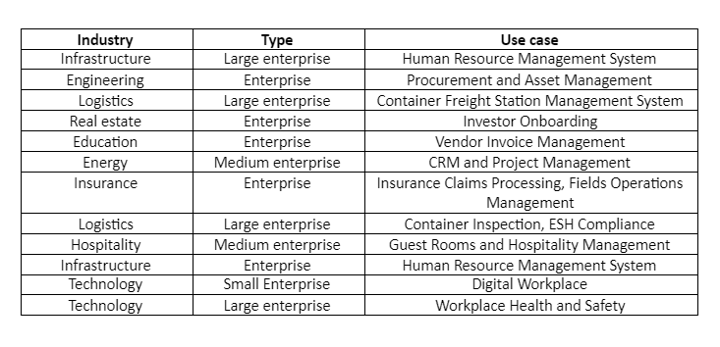 The onset of COVID-19 underscored the importance of quick and customizable apps, catapulting Quixy's demand. With workplaces hastening to transform digitally to accommodate the work from home culture, no-code app development has truly made its mark.
Quixy's impact
Let's expand on the aforementioned use cases to see how much of an impact Quixy has had in transforming each business.
Engineering, Procurement, and Construction
RVR Projects Private Limited is a construction business. It has multiple verticals including tunnels, irrigation, transportation, building, water supply, etc. It was facing a huge challenge in executing large scale projects due to paper-based operations that were impacting the efficiency of the workflow.
Quixy helped by automating many processes right from budgeting, equipment and material management, vendor management, procurement, logistics management, and HR all on the one platform.
Time taken – 45 days
Impact – 20% improvement in resource utilization
Education
Presidency Group of Institutions is based in Nizamabad, India, operating and managing a pre-primary, middle, and high school. Manual invoice processing and delivery was their number 1 challenge because collaboration concerns were delaying payments. The process also required the involvement of multiple authorities. The absence of even one of them could create a bottleneck.
Quixy automated the entire invoicing process, eliminating the need for human intervention. The creation of invoices, verification, submission, and payment processing was moved online along with escalations, notifications, and reminders to speed up the process.
Time taken – 5 days
Impact – The invoice processing time improved by 30%
Construction
Navayuga Engineering Company Limited is a leading infrastructure and engineering company. The company executes projects across the country, involving thousands of employees and field staff. Updating payrolls for all employees was an arduous task because it was being done manually through email and paper forms. This resulted in delays and errors.
Quixy stepped in to automate all HR processes including Onboarding, Performance Management, Leave Management, Payroll Management, and Separation. Employees could now easily report to duty, apply for leaves, etc. online.
Time taken – Less than 2 months
Impact – HR personnel now breathe easy – their life is much easier!
Quixy Features
Quixy promises to make your operations seamless, agile and completely automated through the following advanced features. And when we say advanced features, we mean it. Our citizen developers find them extremely easy to use as well.
Ready-to-use solutions for most departments including HR, Finance, General Administration, Operations, Sales and Marketing, IT Support, and Quality. These include an applicant tracking system, employee onboarding, leave management, project and task management, IT service request management, travel and expense management, CRM, etc. These solutions can be customized in minutes as per business needs.

Drag and drop UI builder with the flexibility to design the UI ina six-column layout, 40+ form controls including geolocation, QR Code, e-signature, etc.

Intuitive Workflow Builder to handle all your sequential, parallel and conditional workflows

Rules Engine allows you to configure all your business rules and validations without having to write any code. Control access to form data at the field level to control who can edit or see the information and at what stage of the process workflow.

Data Tables and Functions: Using the advanced functionality of data tables and functions, Quixy's allows storing a wide variety of data like images, documents, numbers, etc. in data tables while allowing CRUD operations to manipulate the data. An example may be updating the leave balance for an employee as part of the leave application process.

Integrations: Push data to third party systems or pull data from them using ready-to-use connectors and API Integrations. Connect to popular apps and move data between the systems seamlessly.

Document Generator: Use data from various applications built on the Quixy platform to generate documents on the fly eliminating any possibility of manual errors. This may include generating payslips, preparing purchase orders and invoices, creating sales quotations, contracts, and complex reports, etc. 

Data Sources: This powerful feature allows users to combine data from multiple apps, data tables, or a combination of both. These can be compared to views in a typical database management system. These data sources can then be used to generate reports that provide a more comprehensive 360-degree view of the operations.

Reports: With Quixy's 40+ report types with drill-down options, users can monitor apps and process performance to uncover inefficiencies and bottlenecks in the system. Reports also provide actionable insights into trends, resource utilization, etc. for informed decision making.

Dashboards: Every user can build and configure their own dashboard with Quixy. They can choose the data, reports, and charts that they wish to see as soon as they log in to the platform giving them the control their need on their work. Dashboards can be configured to provide easy access to announcements, repositories, performance data, pending tasks, shortcuts to use an app, etc.

Enterprise Ready: Quixy's platform has the inbuilt controls to meet all enterprise requirements without any modifications. These include:

Hosting on private cloud

Audit trail and App Versioning

IP filtering

SSO

Custom password policies

Multi-step authentication

White labeling

Offline billing
Takeaway
Quixy is here to digitally transform how businesses operate. Use Quixy to automate processes across all departments, all on one platform, and build simple to complex custom enter-grade applications without writing any code. Quixy's No-Code platform can help you stay agile and respond to any business changes promptly. You can get started with a free trial and work your way upwards with a plan that suits your business requirements.