Like a lot of others, I was itching to get my hands on THE BILDR to see if the hype was real. With the understanding that "the tool is built with the tool" I could only imagine how complicated it must be, especially considering I wanted to use it for a chrome extension. I had been wanting to build this extension for the last 2 years without luck. After several quotes from development agencies exceeding $5,000+ I thought that the extension was out of reach. But Bildr had sparked hope that this could be completed without burning a hole through my pockets!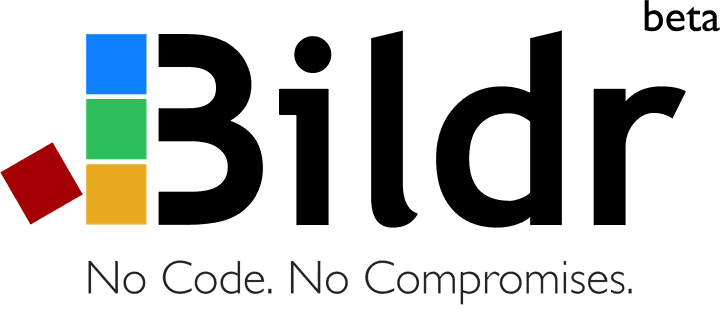 The day had come, I log in to the builder (bildr) and to my surprise I was not overly stimulated or haunted by complexity. Mark personally showed me around the builder answering all questions I had as we built a simple list web-app. Right away I was impressed and I wrote this to let you know what stuck out the most!
So what impressed me the most?
Power: The logic is POWERFUL and you really are able to do anything you want. One thing that impressed was the optionality for input components like email, phone number, places lookup, and many many more ?! While the logic is powerful, I would not say it is anymore daunting than Bubble's logic. The only difference is the way in which they display the actions.
Design: You are not limited by design in any facet, you can truly do whatever you want. With that being said there is definitely a learning curve just like you would experience on a platform like Webflow. I think a large portion of the learning curve is the terminology and learning what things actually mean.. like what the f*ck is a "justify-content" and the buttons that go a long with it? Well I learned. This platform will be heaven for front end developers that now have the ability build an entire web-app without missing a beat.
Scalability: This is not from personal experience but @nocodedevs has! His tool for EstyGram allows etsy makers to automate their designs for social media and has gained a lot of traction since inception (less than 1 month ago)! From my understanding EtsyGram has had no issues as new users have poured onto the site which is great news for those looking to build their companies on top of Bildr!
Collaboration: Collaboration with others on your project is easy, simply add them as a collaborator and work together to build your web app! In my opinion collaboration is ESSENTIAL whether that be with a co-founder or a freelancer you hired for some design work. If you hired outside help just add them as a collaborator to complete the contract work and remove them whenever they are finished!
So what do I think?
While Bildr still has a ways to go I do believe they have massive potential. At this point in time I see it being extremely useful to designers, front end engineers, and those that have some technical knowledge with a drive to build something special. If you have not signed up for their early access I highly recommend (CLICK HERE) and I look forward to watching them grow into their own unique spot in the #NoCode market!